Bangers & Mash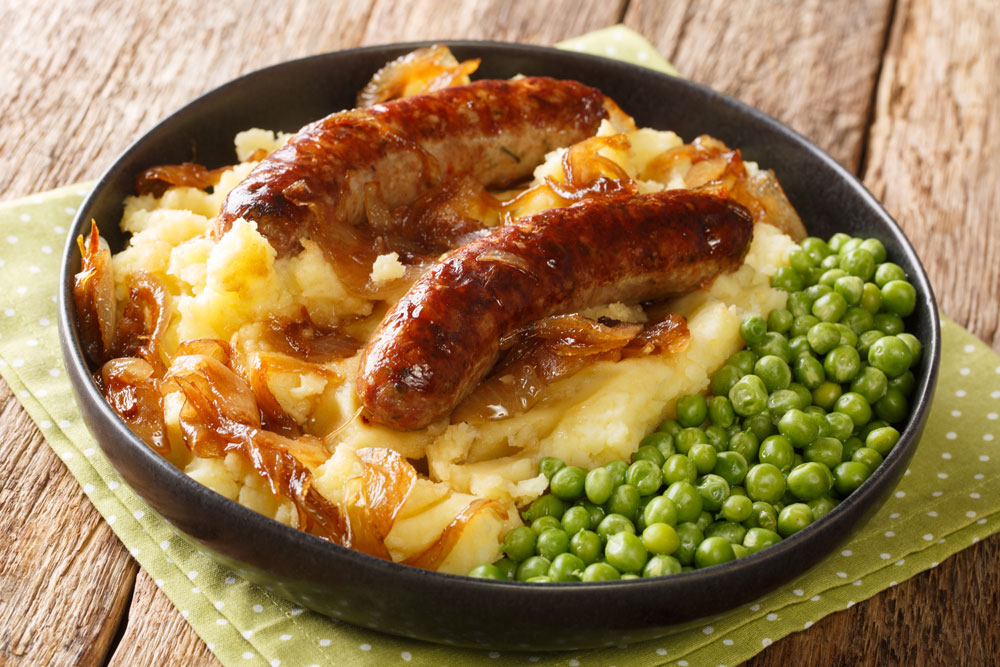 Ingredients (serves 4)
For bangers & gravy
1/2 T. vegetable oil
8 sausages
1 large yellow onion
2 garlic cloves minced
3 T. flour
2 cups of beef broth
1/4 t. salt
1/2 t. black pepper
For the mashed potatoes:
3 lbs. of russet potatoes, peeled and diced into 1″ cubes
1 T. salt (for boiling the potatoes)
4 T. butter
1/3 cup of milk
1/2 t. salt for flavor
Chives or parsley chopped
For peas:
1 pound frozen green peas
6 T. butter
2 t. sugar
1 clove garlic, crushed
Salt and pepper to taste
Instructions for bangers & gravy :
For classic bangers and mash, we recommend going to your butcher to select a high-quality pork sausage. Lean sausages don't work as well because they don't provide enough drippings for an exceptional gravy.
Cook the sausages: Heat vegetable oil in a large skillet over medium high heat. Add sausages to hot oil. Cook while turning, until browned on all sides and sausages are cooked through. Time will vary depending on the sausage size, around 8 minutes. Once done, remove sausages from skillet and place on a plate.
Keep 2 T of sausage oil in skillet and any cooked bits. If there isn't 2 T oil left from sausages, add butter. Turn heat down to medium.
Add onion to skillet and cook until golden brown, around 4 minutes.
Add garlic and flour and mix, stirring constantly for 2 minutes.
Gradually add beef broth. Add 3/4 cup to start and mix, then add remaining broth until combined. If lumpy, use a whisk to smooth out.
Thicken the gravy by simmering 2 – 3 minutes while mixing constantly.
Add salt and pepper, seasoning to your preferred taste.
Serve sausages on top of mashed potatoes, then drown with gravy! Place peas to the side.
Instructions for mashed potatoes:
Place diced potatoes in a large pot with water that is 4 inches above the potatoes.
Bring to a boil over high heat, then reduce heat to a rapid simmer. Cook for 15 minutes, until potatoes are soft.
Drain water from pot and let rest for 1 minute.
Add salt, butter, milk. Use a hand masher (no beater, blender or food processor). Don't over mash, just until the potatoes are creamy.
Transfer potatoes to a serving bowl, then sprinkle with chives and parsley. If desired, add a few pats of butter on top and serve.
Instructions for peas:
Don't boil!
Combine the peas, butter, sugar and garlic in a medium sized skillet.
Cook over medium heat until butter is melted and peas are heated through, around 7 minutes, stirring occasionally.
Remove from heat, drain off any liquid and add salt/pepper to taste.
---
Gimlet Cocktail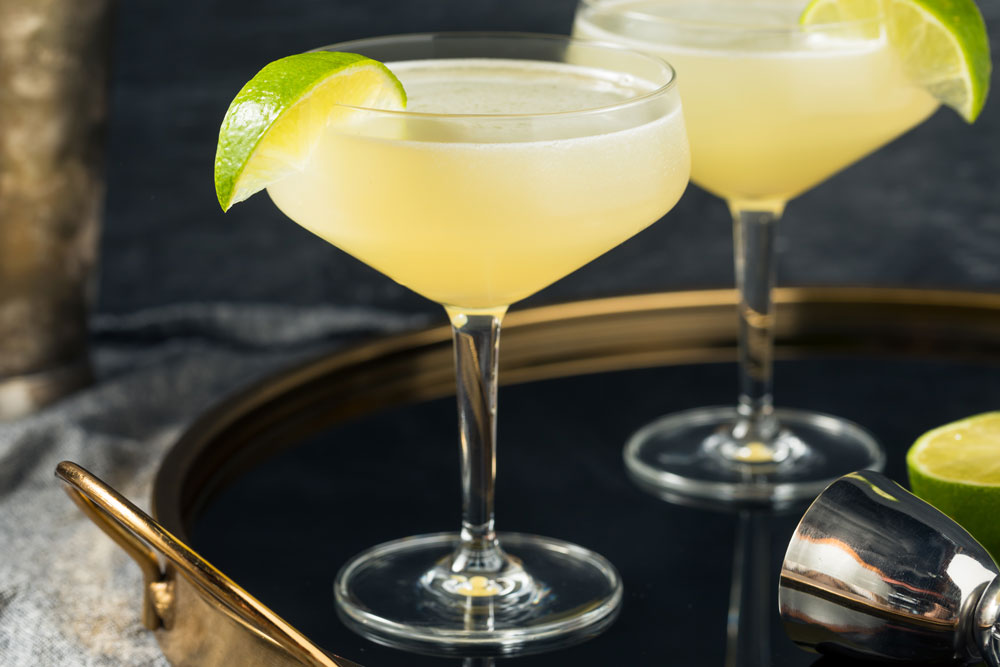 Ingredients (serves 4)
Lime Cordial:

3 cups simple syrup
zest from 6 limes
1/2 cup of lime juice

Favorite gin
To make a simple syrup: add 3 cups of sugar to 3 cups of water. Bring to a boil while stirring. Once sugar is dissolved, remove from heat and cool.
To make Lime Cordial: add the zest of 6 limes and 1/2 cup of lime juice to 3 cups of simple syrup. Mix in a blender, then strain out any zest pieces.
To make Gimlet Cocktail: In a mixing glass with ice, stir two parts gin to one part lime cordial (or one part to one part if a sweeter cocktail is desired.)
Strain into a chilled coupe glass and garnish with lime.