Coq au vin Recipe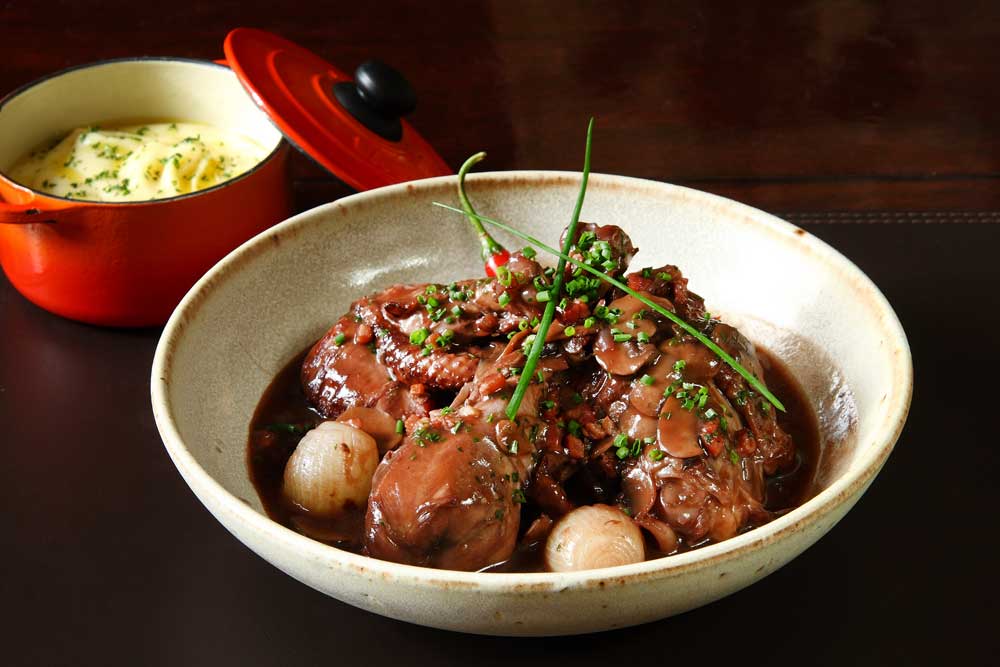 This classic French dish isn't as complicated as it sounds, but packs a lot of flavor that develops as it slowly simmers. As always, serve with your favorite red wine! We suggest a Pinot Noir.
Coq au Vin Ingredients
3 lb. bone-in, skin-on chicken thighs
Kosher salt
Freshly ground black pepper
6 strips bacon, cut into 1″ pieces
8 oz. Cremini mushrooms, sliced
8 oz. pearl onions, peeled (if you can't find fresh, you can use frozen.)
4 large carrots, peeled and chopped
2 cloves garlic, minced
1 tbsp. tomato paste
3 tbsp. all-purpose flour
2 c. red wine
2 c. low-sodium chicken broth
1 tbsp. brandy
Small bunch of thyme
4 tbsp. butter (slice into 4 pats)
Freshly chopped parsley, for serving
Season the chicken with salt and pepper. In a large dutch oven over medium heat on a stove, add bacon and cook until crispy. Use a slotted spoon to remove the bacon and place on a plate lined with paper towels.
Add chicken to dutch oven with bacon grease. Cook until the chicken skin is golden, 4 to 5 minutes per side. Remove chicken to a plate and remove skin. Drain all but 3 tablespoons of oil from pot. 
In the same dutch oven, add mushrooms, onions, and carrots and cook for 5 minutes. Add garlic and cook for an additional minute. Add tomato paste and stir to coat vegetables, then add flour and stir until vegetables are coated. Slowly pour in wine, broth, and brandy. Return chicken and half the bacon to pot. Add thyme, season with salt and pepper and bring to a boil. Place pats of butter on top.
Once boiling, cover the pot and decrease stove heat to low so it is a slow simmer. Simmer for an hour and a half, until sauce thickens and chicken is tender. If sauce doesn't thicken by itself, remove lid and increase heat to medium-high for a few minutes until it thickens.
Serve over brown rice or mashed potatoes, top with remaining bacon bits and fresh parsley.