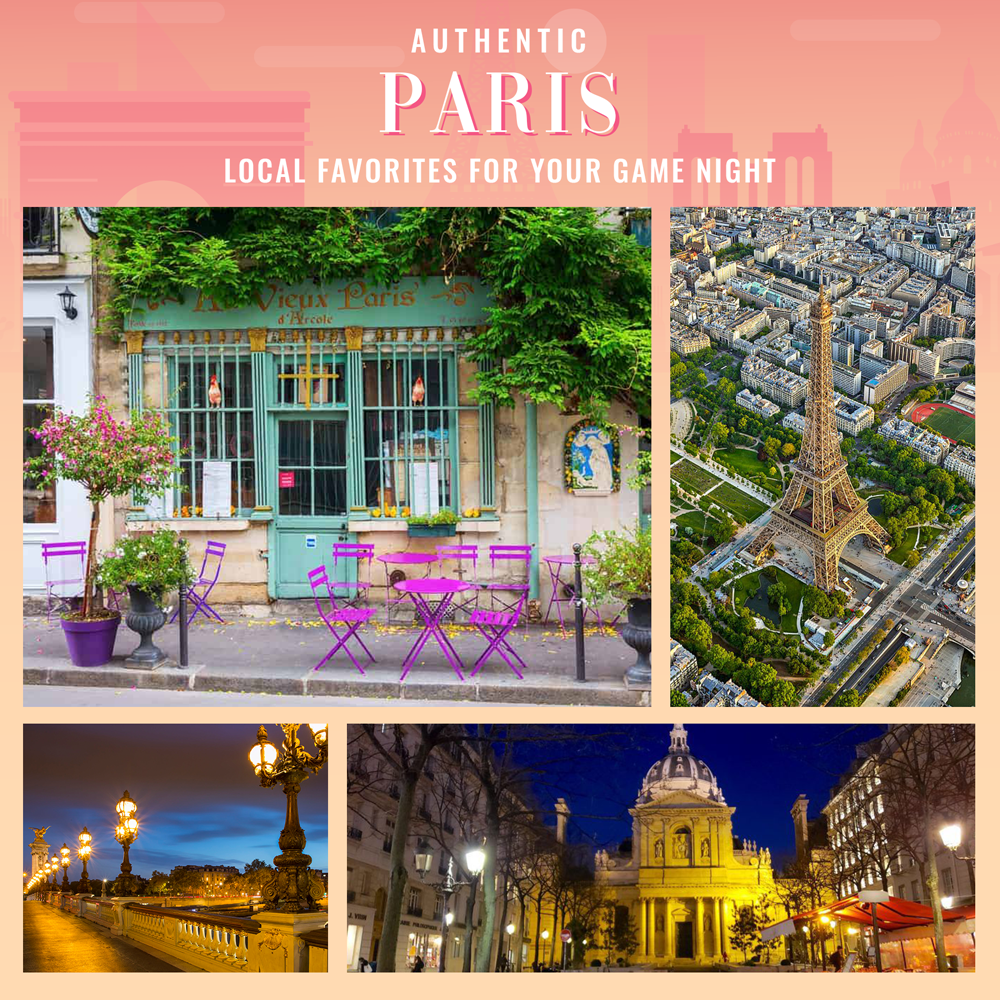 Immerse Yourself In the rich history of Paris!
Set your coordinates to Paris and get ready for one of our most popular mysteries ever! Discover the historic landmarks of one of the most iconic cities in the world. From the top of the Eiffel tower to the depths of the catacombs, find yourself entranced by the city of lights and curious history around every corner. Paris is home of the Louvre, the most visited museum in the world. With over 35,000 pieces on display, the Louvre has some of the most important pieces of art throughout history.
Paris is steeped in art, culture and architecture dating back more than 2000 years. Get ready to transport yourself through the long and storied history of Paris for this month's mystery. Transform your home into a Parisian cafe and get fully immersed in the best night of the month, Game Night!
Check out our cuisine, drink, and music recommendations below.
Our Recommendations:



Cuisine

France is known as the Gastronomic Capital of the World. French cuisine has influenced many international menus around the world. Known for their rich and flavorful dishes, French food will fill your home with pleasant aromas and happy bellies. Set the mood this game night with one of France's most famous dishes, Coq au Vin (it's easier than you think). Find the recipe here.

Drink
From Merlot to Champagne, France is home to some of the best wines in the world. Also known for some classic cocktails invented in Paris such as the sidecar, the rose and the ever popular, mimosa. Get in the Parisian spirit with a classic French 75 cocktail for this month's game night. Find the recipes here.

Music

Get ready to transport yourself to the streets of Paris with this Spotify playlist. You'll discover classic French love songs from Edith Piaf to the upbeat sounds of cafe jazz. Find our complete playlist here.