Souvlaki & Tzatziki Sauce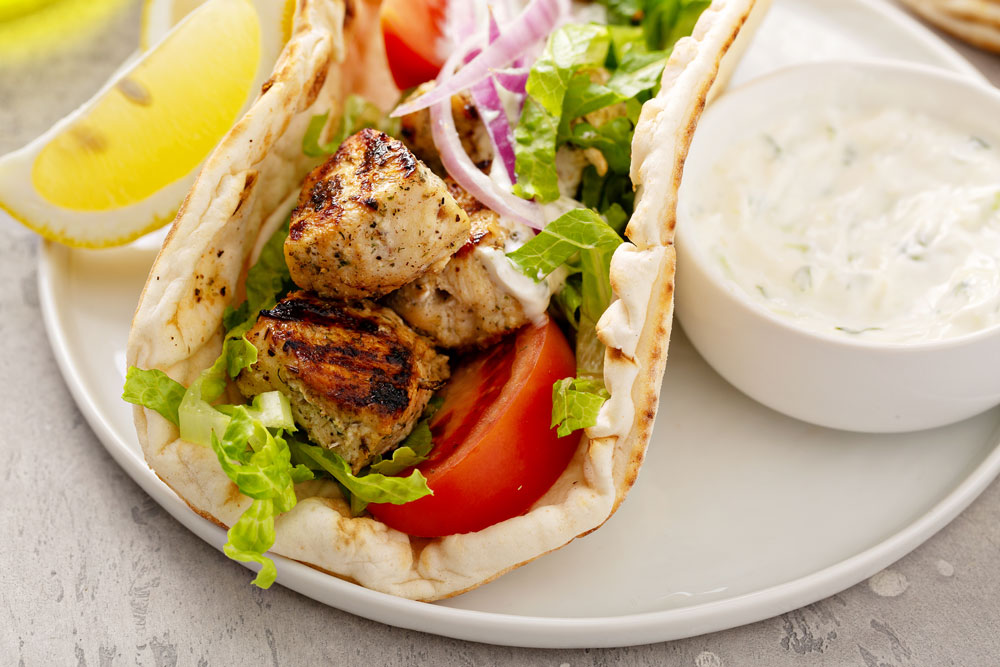 Ingredients
2 lbs. boneless chicken breast, boneless pork shoulder or lamb
4 Tbsp olive oil
Juice of 1 lemon
4 cloves garlic
2 Tbsp dried oregano
Salt and freshly ground pepper
Instructions
Soak 8 wooden skewers in water.
Cut the chicken into 1-inch cubes.
Prepare the marinade.

Mince garlic and juice lemon.
Wisk together olive oil, garlic, lemon juice, oregano, salt and pepper.

Mix the chicken into the marinade, cover and rest in the fridge for 1 hour.
Thread cubes of chicken onto the skewers (don't crowd them too much).
Cook the chicken skewers on a griddle at high heat for about 8-10 minutes, turning occasionally until chicken is nicely colored on all sides and cooked through.
Enjoy immediately, or wrap in pita bread with lettuce, onion, tomato and tzatziki sauce.
Sauce Ingredients
1 1/2 cups plain Greek yogurt
1 cucumber
2 cloves garlic
3 Tbsp extra virgin olive oil
1 Tbsp fresh lemon juice
1 Tbsp fresh chopped dill or mint
1/4 tsp salt, or more to taste
Sauce Instructions
Strain yogurt.

Place a colander over a bowl so there is room for liquid to collect under the colander.
Line the colander with 6-8 layers of cheese cloth or several coffee filters.
Scoop yogurt into the middle of the cheese cloth, then cover with plastic wrap or by bundling the cheese cloth and tying on top.
Place in the refrigerator for at least 3 hours for Greek yogurt, or 12 hours for regular plain yogurt, longer if you want a thicker consistency.

Prepare cucumber.

Remove skin and seeds from cucumber.
Grate cucumber flesh.
Season grated cucumber with salt and pepper and set aside for 10 minutes.
Wrap grated cucumber in a towel and squeeze to get rid of excess liquid.

Crush garlic and mix with olive oil.
Wisk together all ingredients, and garnish with more olive oil and a sprig of mint.
Serve cold.
Baklava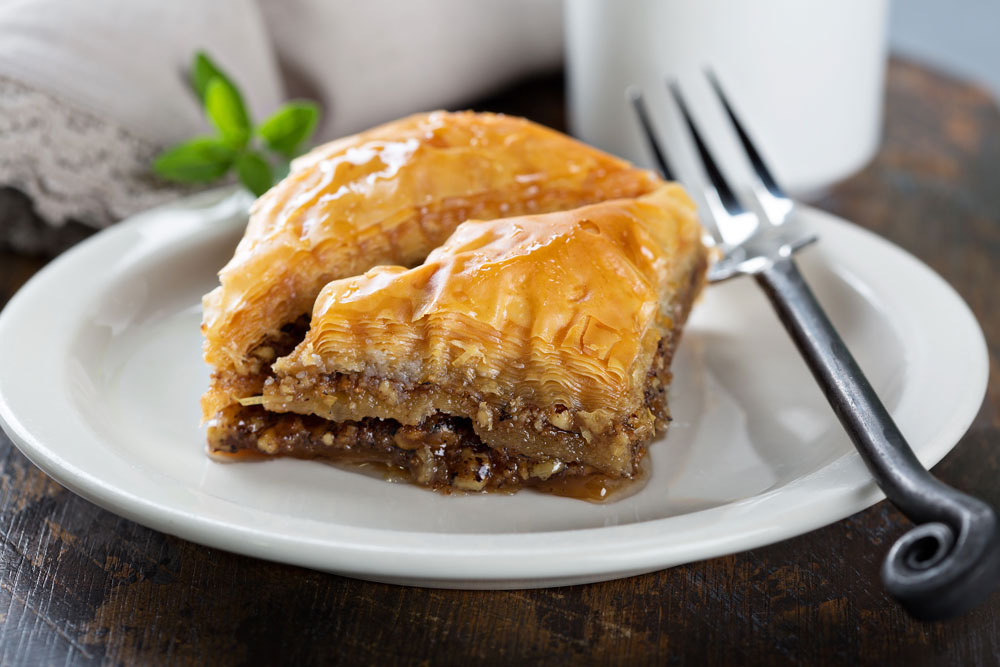 Ingredients
1 (16 oz) package of Phyllo Dough (thawed)
1 lb. finely chopped pecans or walnuts
1 cup unsalted butter
1 tsp ground cinnamon
1 cup water
1 cup granulated sugar
1 tsp vanilla extract
1/2 cup honey
Instructions
Preheat oven to 350 degrees Fahrenheit.
Mix together nuts and cinnamon and set aside.
Unroll phyllo dough onto a clean surface, then immediately cover loosely with plastic wrap and a damp cloth to keep if from drying out.
Brush melted butter onto the bottom and sides of a 9×13 baking dish.
If needed, cut all layers of the phyllo dough to fit into your dish.
Add 2 sheets to the bottom of the buttered dish and brush the sheets with butter, edge to edge covering every part of the sheets. Repeat 4 more times until you have 8 layered sheets in total.
Spread 2-3 Tbsp of the nut mixture evenly on top of the 8th layer.
Add 2 more sheets of phyllo dough, brush with butter, then spread 2-3 Tbsp of nuts. Repeat this step until you have 8 sheets of phyllo dough remaining.
Add the remaining 8 sheets of phyllo dough, 2 sheets at a time, brushing with butter before adding the next 2 sheets.
With a very sharp knife, cut 4 rows down the length of the pan. Then to get the traditional baklava shape, cut diagonal rows the opposite direction.
Bake for 45-50 minutes until golden brown and crisp on top.
With 30 minutes left to bake, make the syrup.

Bring water and sugar to boil over medium-high heat until sugar is dissolved.
Add vanilla and honey, then simmer for 20 minutes, stirring occasionally.

When you remove baklava from the oven, immediately pour the hot syrup over the entire pan.
Let baklava cool and set, then serve.
Ouzo Martini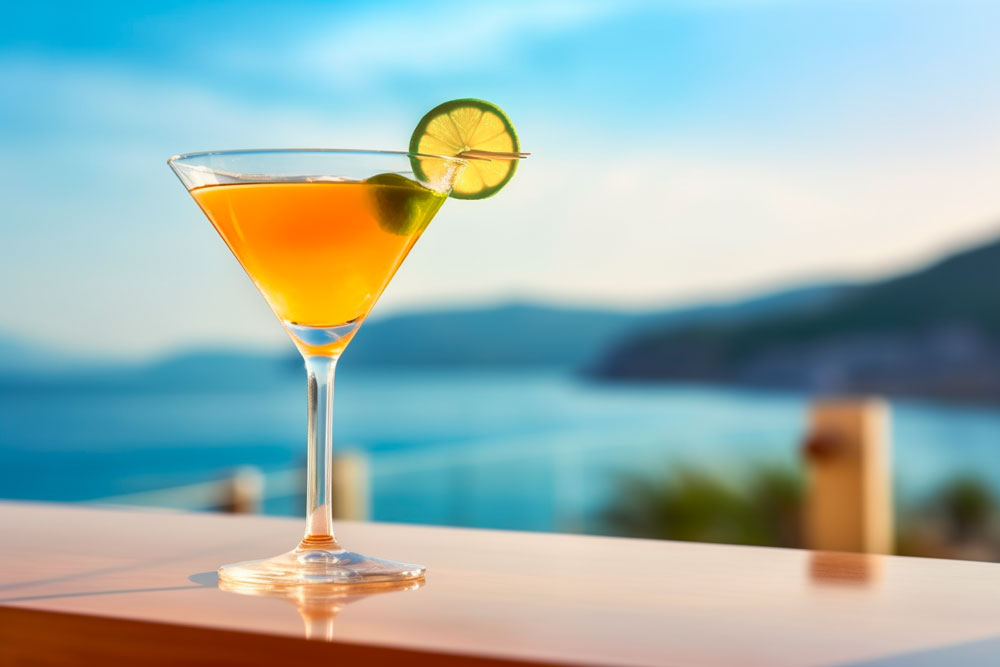 Ingredients (serves 2)
4 oz Orange Juice
4 oz Pineapple Juice
2 oz Ouzo
2 oz Vodka
1 tsp fresh lime juice
Limes for garnish
Ice
Instructions
In a martini shaker, combine all ingredients and 1/2 cup of ice.
Shake and strain into 2 chilled martini glasses.
Garnish with slices of lime