U.S. National Parks Recipes
Salmon and asparagus tin-foil dinners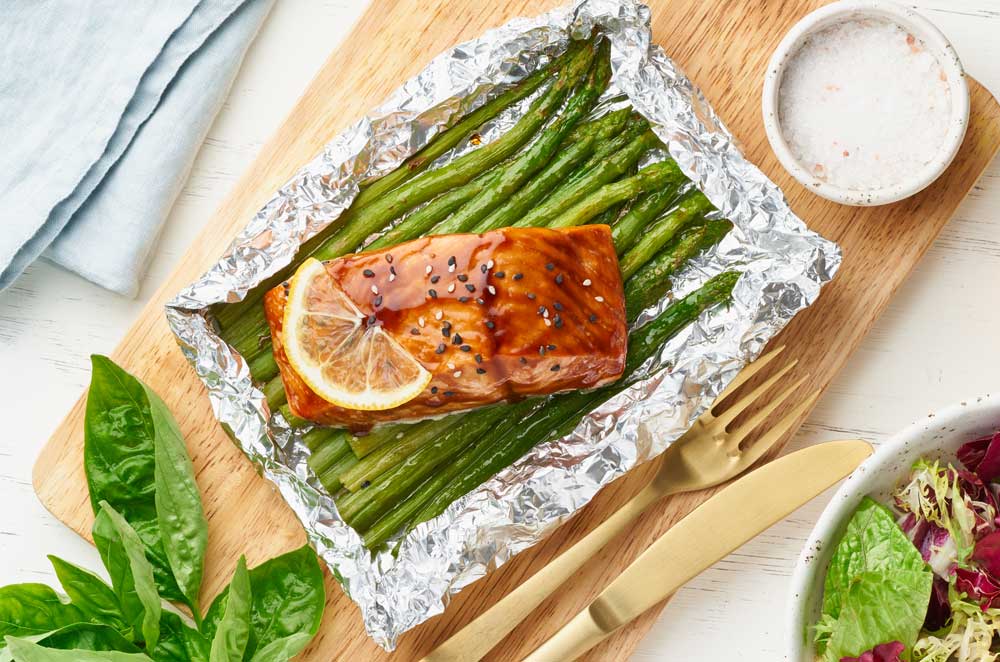 Ingredients (serves 4)
4 salmon fillets (around 6 oz. each)
1 pound asparagus spears
1 tsp paprika
1 tsp garlic powder
1 tsp salt
1 tsp black pepper
1/2 cup butter (melted)
3 lemons
1 Tbsp minced garlic
2 Tbsp fresh basil
Instructions
Preheat oven or grill to 400 degrees F.
Cut 4 sheets of heavy duty foil to 12×18 inches and spray with non-stick spray.
Cut 1 lemon into 8 slices. Place 2 slices on each foil sheet.
Mix paprika, garlic powder, salt and pepper together. Rub spice mix into salmon filets.
Place one salmon filet on top of the lemon slices on each foil sheet.
Trim 1-2 inches off the bottom of the asparagus and then equally among the foil sheets, lying them next to the salmon.
Mix together melted butter, juice of 1 lemon, garlic and chopped basil. Pour the mixture evenly over the salmon and asparagus.
Bring together the edges of the foil and fold together to seal. Fold to seal both ends of the foil to seal each into a packet. For best results, leave an air pocket inside each packet. Place on baking sheet to cook.
Bake in preheated grill or oven for 15-20 minutes.
Open each packet and broil for 1-2 minutes to crisp up the exterior.
Don't skip this step, it adds fresh flavoring: garnish each dish with a lemon wedge and fresh basil.
Gourmet S'mores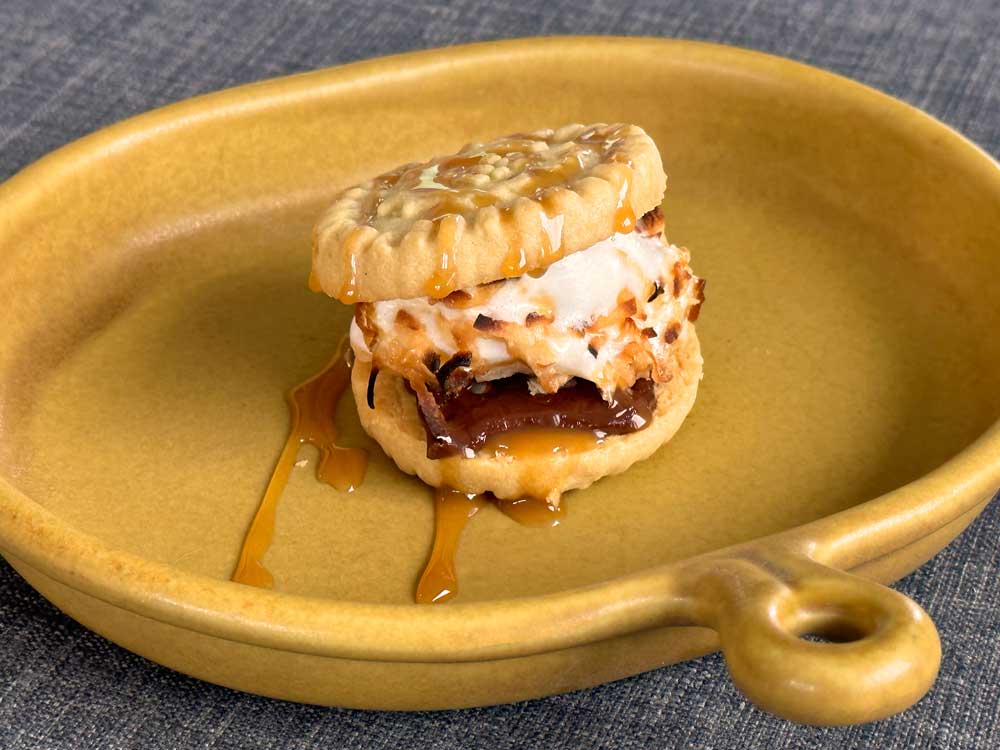 Ingredients (serves 4)
8 butter shortbread cookies (We suggest Walkers discs or Pepperidge Farms Chessmen)
1 package of shredded sweetened coconut
1 package of large marshmallows
Your favorite dark chocolate (We suggest Lindt's dark with salted caramel bits)
Caramel sauce (We suggest Ghirardelli's or make your own, recipe here)
Instructions
Toast the coconut: Spread half a bag of shredded coconut on cookie sheet that is lined with foil or parchment paper. Bake in preheated oven at 325 degrees. Bake for 3 minutes, then stir. Bake for another 3 minutes and stir again. Continue baking until it is golden brown, but be careful it browns quickly once it reaches the right temperature.
Change oven setting to broil at medium high heat.
Place 8 cookies on a cookie sheet lined with foil and place squares of chocolate on 4 of the cookies.
Coat 4 marshmallows in caramel sauce on all sides, then roll in toasted coconut.
Place the marshmallows on top of the chocolate squares on 4 of the cookies.
Broil all 8 cookies for around a minute (constantly watching), until the marshmallow starts to puff, but before it melts or burns the coconut.
Remove from heat then sandwich the cookies with marshmallows and ones without.
Drizzle caramel sauce on top and serve.
Smoky Apple Cider Margarita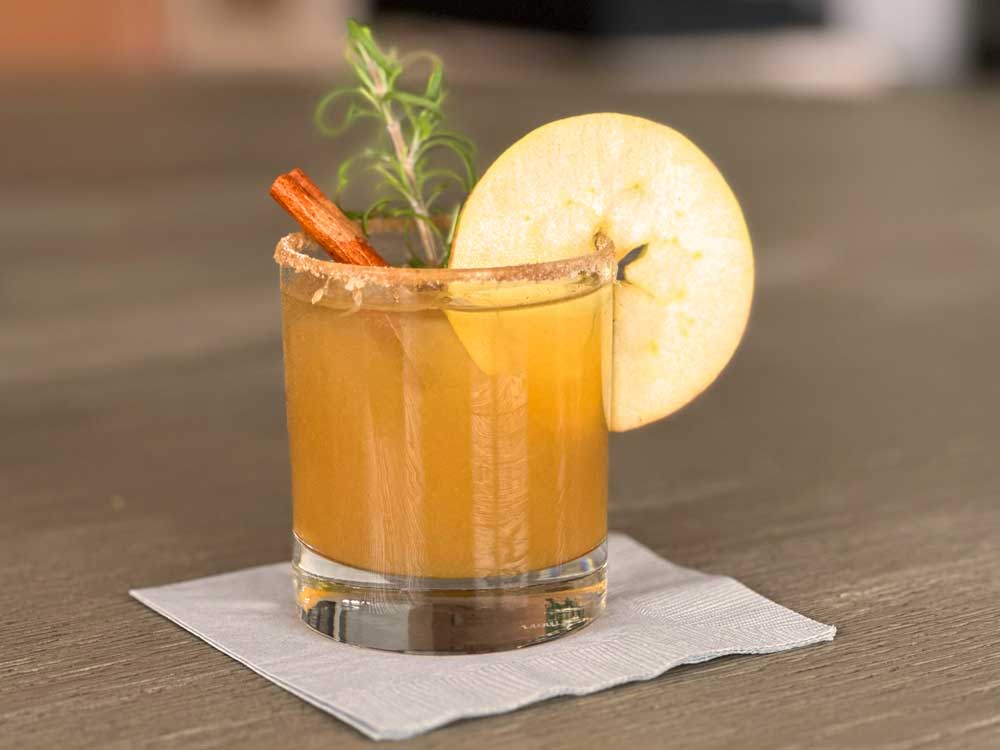 Ingredients
2 oz tequila (or try mezcal for an extra smoky version)
1 oz triple sec / orange liqueur
4 oz apple cider
Juice from 1/2 lime
1 tsp. maple syrup
For the rim of the glass: mix equal parts cinnamon, sugar and flaky sea salt
Garnish: apple slices, cinnamon stick, rosemary sprig
Instructions
Rub a wedge of lime around the rim of each glass and coat in salted cinnamon sugar.
Combine tequila, orange liquor, apple cider, lime juice and maple syrup in a cocktail shaker. Add ice and shake to combine.
Strain into glass
Gently rub the rosemary sprig to release aroma, then place in glass.
Garnish with a thin apple slice and cinnamon stick.
Light the cinnamon stick on fire then stir in drink for a smoky effect.