San Francisco Immersion Ideas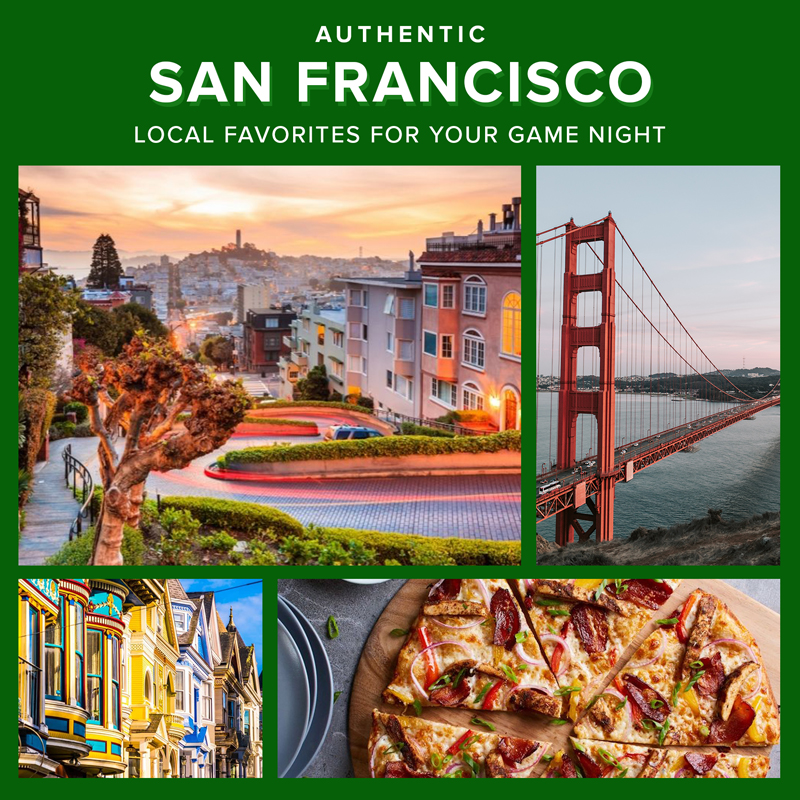 Immerse Yourself In the Golden History of San Francisco!
Hop on the next cable car and get ready to explore the City by the Bay! San Francisco is home to beautiful architecture, sprawling parks, delicious food, and the global center for technology innovation. Make your way through the hills of one of America's most picturesque cities searching for clues. Rich in culture and art, San Francisco was built on the prospects of gold from the Great California Gold Rush of 1849. From the chilly waters of Ocean Beach to the Bohemian vibes of the Haight-Ashbury district find a truly multicultural experience around every corner.
Known around the world as the Technology Capital, San Francisco is home to Silicon Valley and the largest Tech companies in the world. Get ready for a Hi-Tech mystery in this Hi-Tech city. Set the mood, charge your phones, set GPS to San Francisco and get immersed for the best night of the month, game night!


Our Recommendations:



Cuisine

Influenced by the melting pot of cultures that make up San Francisco, California Cuisine is a fusion of many different flavors and cultures. Known for infusing fresh local ingredients into traditional dishes from around the world, keeping it light and fresh is what it is all about! Whether you're craving a bayside seafood feast or a full meal in a mission style burrito, you are sure to find a true San Francisco treat!

This game night, get creative with a homemade giant fortune cookie! This iconic treat was first introduced in the early 1900s, surprisingly at a Japanese Tea Garden in San Francisco. Nearby restaurants in Chinatown adopted the cookie for their own. Have fun with this recipe and use your creativity to add your favorite toppings and write your own fortunes or poetry. This recipe is sure to get the whole crew involved. Find the recipe here.



Drink

California is the wine capital of the United States. You can find some of the finest wines in the world in Napa Valley, just a stone's throw away from San Francisco. A California wine is the perfect pairing for a San Francisco Mystery night. If wine isn't your thing try a refreshing creation from Anchor Brewing, America's oldest craft brewery and San Francisco native. Feeling like a cocktail? Discover the Martinez, a precursor to the Martini, served at the Occidental Hotel in San Francisco since the 1880s. Find the recipe here.



Music

As the center of counterculture in the 1960s and 70s, musicians gathered in the Haight & Ashbury district and developed a distinct San Francisco Sound. This new rock melded several musical influences and were performed live and recorded for worldwide distribution. Discover the San Francisco Sound in our playlist here.