Grilled Fish with mango salsa and coconut rice
Mango Salsa Ingredients
• 1 large Mango, cut in small pieces
• 3/4 c. Red pepper, cut in small pieces
• 3/4 c. Chopped cilantro
• 1/4 c red onion, minced very fine
• 1 large Avocado, cut in small pieces
• 1 T. Fresh Lime juice
• 1 T. Olive oil
• Salt and pepper to taste
Combine all ingredients and store in fridge until ready to use. 
Coconut Rice
• 1 1/2 c. Water or Broth
• 1 1/4 c. Coconut milk
• 1 1/2 c. Jasmine Rice, rinsed
• 1/2 t. Salt 
Mix all together in a sauce pan, bring to a boil, and then simmer 20-25 minutes.

Grilled fish
• Soak wooden grilling planks in water for 2 hours.
• Select your favorite fish (Mahi Mahi for an authentic Hawaiian fish), salt and pepper to taste and drizzle olive oil in top.
• Grill fish on top of the wet wooden plank.
• Serve fish on coconut rice and top with a generous portion of mango salsa
Hawaiian Mai Tai Cocktail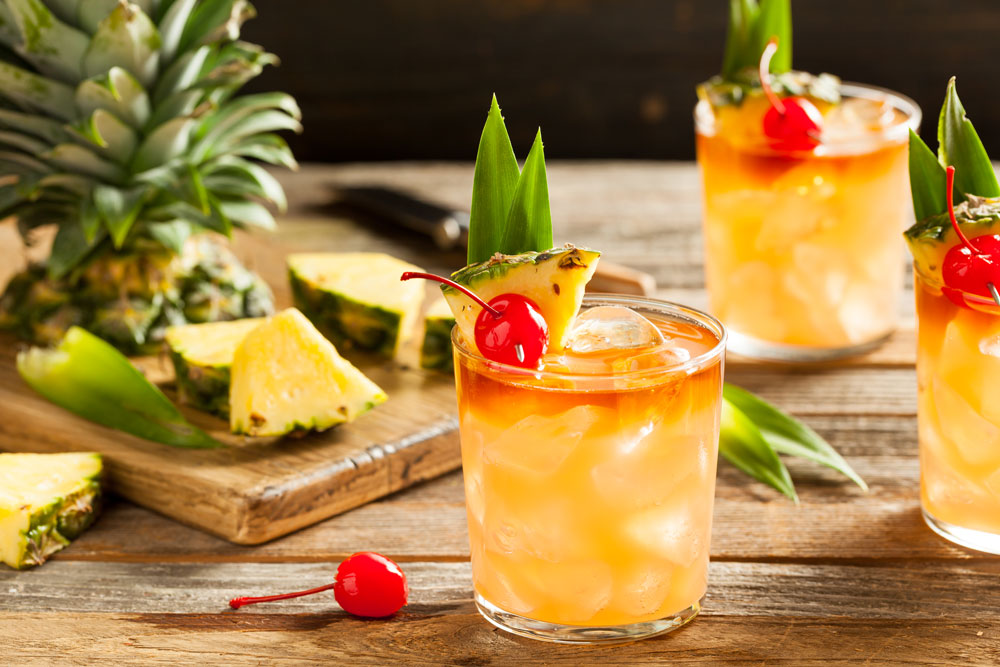 Ingredients
½ part Triple Sec
1½ part white Rum
1 part Dark Rum
¼ part Lime juice
1½ part Pineapple juice
1½ part Orange juice
Garnish: pineapple
Instructions
Add all the ingredients, except for dark rum, in the shaker and fill the shaker with ice cubes.
Shake well until chilled.
Add ice cubes to the glass and strain the cocktail over it.
Add dark rum to the top
Garnish with a pineapple and cherry.