Make your home feel like the pub, where the Irish gather for good food, drinks, and company! Ireland is known for its hearty food, and nothing beats a warm Irish Stew with Soda Bread. Our Irish Stew recipe includes lamb shoulder or beef, potatoes (the famine is over!), and of course, a good old Guinness beer (the black stuff)! Our Soda Bread calls for staples that you already have like flour, baking powder and soda, buttermilk, eggs, and butter. Your mouth is watering already! Check out the recipes below.
IRISH STEW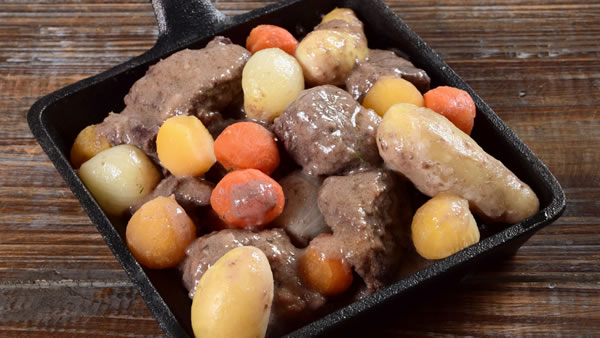 4 lbs boneless lamb shoulder, or boneless beef stew meet cut into 1 inch pieces
Salt and pepper to taste
2 tablespoon extra-virgin olive oil
8 ounce bacon, chopped
1 large onion, diced small
2 cloves garlic, minced
1 bottle of Guinness Draught beer
6 cups beef stock
2 whole bay leaves
2 sprigs of fresh thyme
1 sprig of fresh rosemary
3 large potatoes, peeled and diced into 1/2 inch pieces
2 large carrots, peeled and cut into 1/2 inch pieces
1 turnip, peeled and cut into 1/2 inch pieces
1/3 cup flour
1/3 cup butter, room temperature
Set oven temperature to 350 degrees and preheat. For a truly authentic rustic flavor, cook in a wood pellet grill.
Season meat with salt and pepper.
Heat olive oil in a large Dutch oven over a stove using medium heat. Brown the meat in batches and set aside.
Add bacon and onion and cook for 15 to 20 minutes until browned and golden.
Add garlic and cook for 30 seconds until fragrant. Transfer the meat back to the pan and add butter. Once butter is melted, sprinkle in the flour over meat and bacon and onions and cook for 1 minute.
Deglaze with the beer using a wooden spoon to scrape up all the browned bits on the bottom of the pan.
Add beef stock, herbs, potatoes and carrots to the pan and bring to a simmer. Cover and transfer to the preheated oven or wood pellet grill and cook for 2 1/2 to 3 hours until the meat and vegetables are tender. Check occasionally to make sure it doesn't dry out. If needed, add more beef stock.
Season with salt and pepper to taste. Remove bay leaves and stems from thyme and rosemary and serve with soda bread.
SODA BREAD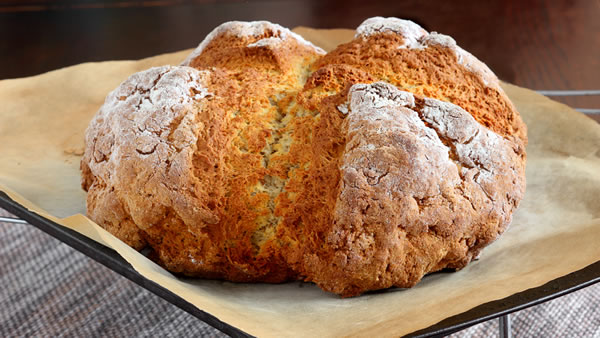 4 cups all-purpose flour
4 tablespoons white sugar
1 teaspoon baking soda
1 tablespoon baking powder
½ teaspoon salt
½ cup margarine, softened
1 cup buttermilk
1 egg
¼ cup butter, melted
¼ cup buttermilk
Preheat oven to 375 degrees F. Lightly grease a large baking sheet.
In a large bowl, mix together flour, sugar, baking soda, baking powder, salt and margarine. Stir in 1 cup of buttermilk and egg.
Put dough onto a lightly floured surface and knead slightly.
Form dough into a single mound and place on prepared baking sheet.
In a small bowl, combine melted butter with 1/4 cup buttermilk and brush loaf with this mixture.
Use a knife to cut an X into the top of the loaf.
Bake in preheated oven 45 to 50 minutes, until a toothpick inserted into the center of the loaf comes out clean.
You may continue to brush the loaf with the butter mixture while it bakes.