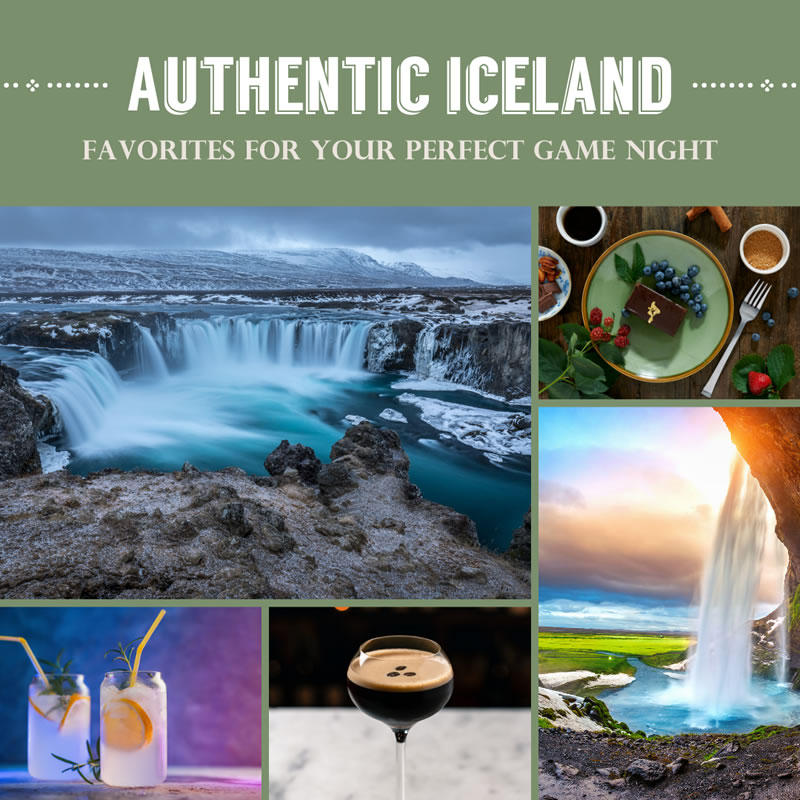 Immerse Yourself In Iceland's Ancient & Adventurous Culture!
You are in for a treat this month as we visit "the land of fire and ice" – Iceland! The perfect year-round destination with an abundance of mountains, volcanoes, glaciers, rivers, and caves ready to be tackled by the outdoor enthusiast. From the vibrant capital city of Reykjavik, venture to Seljalandsfoss & Skogafoss waterfalls, an exciting hike on Solheimajokull or Vatnajokull glacier (largest glacier in Europe), or the most beautiful black sand beach in the world called Reynisfjara. Watch out for strong tidal waves that can sweep you out to sea when checking out the cave on the beach. From the 244-foot-tall Hallgrímskirkja church, you can see all of Reykjavik before relaxing in the famous Blue Lagoon of blue water surrounded by volcanic terrain while wearing a silica mud masque to reveal healthy, luminous, ageless skin. Visit an active volcano with flowing lava or chase The Northern Lights/Aurora Borealis for more natural beauty. Enjoy the heavenly light show that paints the sky with greens, purples, reds, and pinks. Pictures won't do it justice, so breathe it in!

Iceland is home to exciting food, arts, and entertainment, and YOUR home can be, too! Check out our cuisine, drink, and music recommendations below.
Our Recommendations:
Cuisine
As a remote island south of the Arctic circle surrounded by the cold Atlantic Ocean, they naturally developed a love of their native lamb and seafood. While Hakarl ('treated shark') is the national dish of Iceland, their Chocolate Cake of Death is both powerful & tasty and best enjoyed in small portions. This dessert packs a dense punch as it's made without flour with strong coffee, butter, and chocolate. Find the recipe here.
Drink
Taking its name from the phenomenon similar to an extended sunrise/sunset, The Midnight Sun Cocktail is not only gorgeous but yummy! We suggest using Iceland's own Reyka Vodka filtered through ancient lava rocks and made from the purest Iceland spring water combined with blood orange liqueur and Creme de Violette. Or, perhaps go with a darker cocktail like the Reyka Espresso Martini. Find the recipes here.
Music
Your adventure game will be perfect with some Icelandic tunes. Super popular "Little Talks" ruled the 2011 global airwaves from Of Monsters and Men, who are still going strong. Sóley is considered indie-pop with classical movements, and "Pretty Face" is a good example. The biggest name in Iceland's music scene, Bjork, combines electronic, punk, hip-hop, and even occasionally classical music. Give "It's Oh So Quiet" a play for a taste of all of her uniqueness. Ólafur Arnalds' music is ideal as background music, and "20:17" is especially lovely while "Hoppipolla" by Sigur Rós is a happy, mellow vibe. Find our complete playlist here.
Already subscribed? If so, you'll automatically receive this mystery. If not, what are you waiting for? Join the esteemed Society of Seekers and embark on an expedition to Iceland! Order yours now to make sure you don't miss out on this once of a lifetime adventure!
Available for a limited time
Don't wait! December 21st is the last day to order to ensure you receive our Iceland mystery. Once it is gone, we won't ship this adventure again for another 2 years.

Save $5
Order today and save 50% on your first box. Use code HOLIDAY21 at checkout, but hurry, offer ends 12/21/21.
Explore the world, one mystery at a time.
Finders Seekers is a monthly subscription box that explores world cultures, decoding cryptic messages and solving mysterious clues. If you have what it takes to solve the 'Find', you can win cash and prizes!