Falafel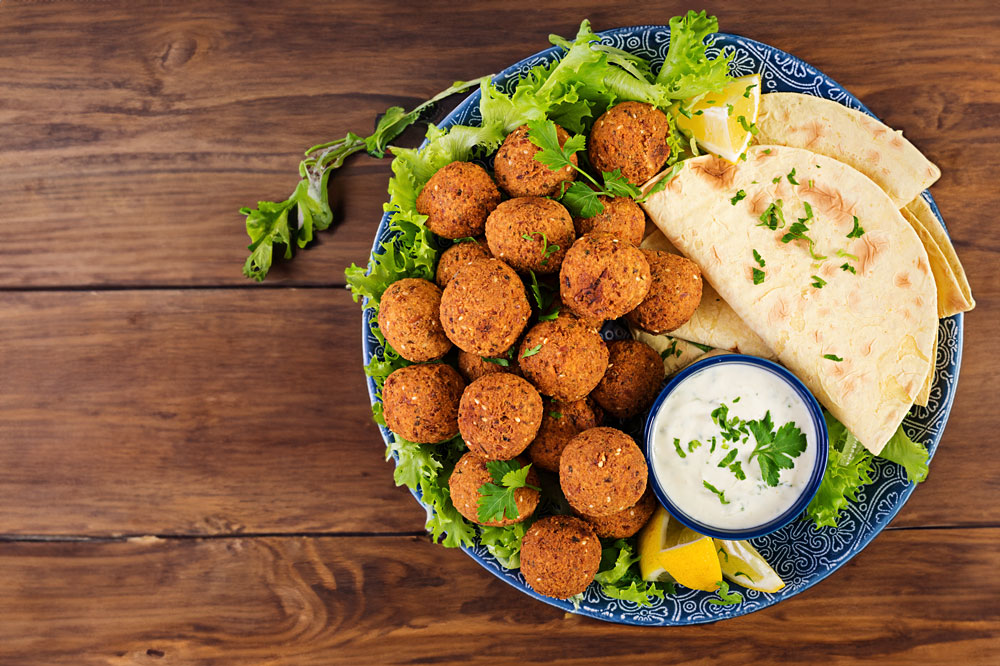 Falafel Ingredients
1 cup dried chickpeas
2 cloves garlic
1/2 bunch fresh cilantro
1/2 bunch fresh parsley
1 small yellow onion
2 tsp ground cumin
1 tsp ground coriander
1 tsp baking soda
1/2 tsp salt
Oil for frying
Falafel Instructions
Prepare chickpeas (Note: canned chickpeas make crumbly falafel that tends to fall apart. Authentic falafel is always made with dried chickpeas.)

Place dried chickpeas in a bowl and add 4 cups of water
Soak at least 12 hours (24 is better).
Drain chickpeas and rinse well.

Prepare other ingredients

Peel garlic and cut off ends.
Trim and discard the large stems from the cilantro and parsley, keeping only the leaves and the small stems between the leaves.
Peel and rough chop onion.

Add chickpeas, garlic, parsley, cilantro and onion to a blender (split ingredients evenly into batches if needed) and blend for about 4-5 minutes until no large chunks remain. (Note: some small bits of chickpea may remain.)
Transfer chickpea mixture to a bowl and add cumin, coriander, salt and baking soda and stir well.
Rest mixture in the fridge for 1 hour.
Shape 1 Tablespoon of mixture at a time into balls or patties.
Heat oil to 375 degrees F in a deep fryer or frying pan.
Fry falafels in batches until golden brown (about 3-4 minutes).
Serve alone, or wrapped in flatbread with sauce (recipes below) and vegetables as a sandwich
Shrak (Jordanian Flatbread) and Dipping Sauce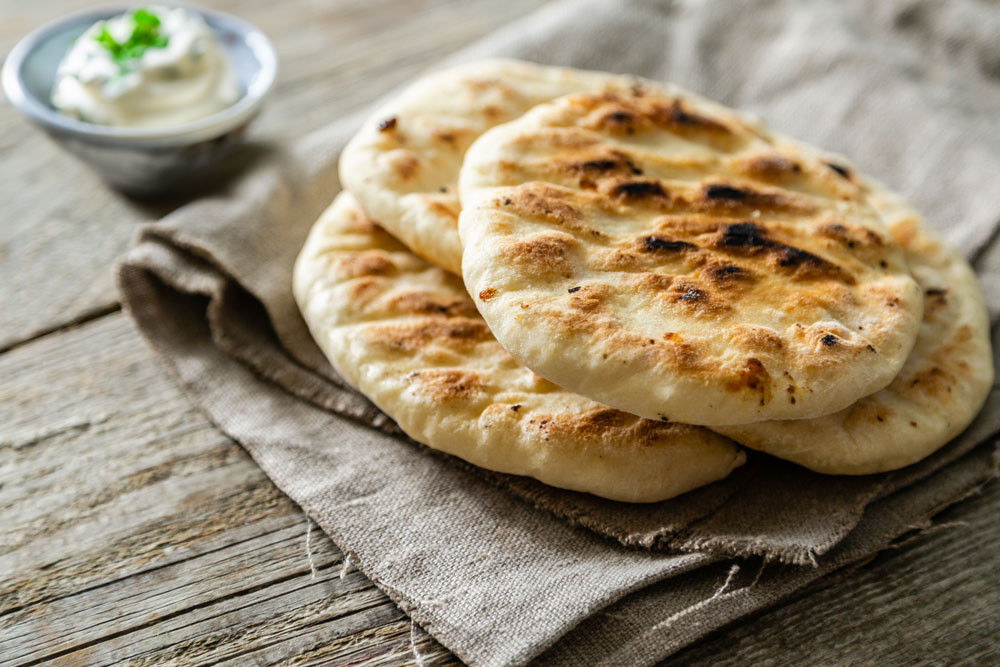 Shrak Ingredients
1 cup whole wheat flour
1 cup all purpose flour
1/2 Tablespoon honey
1/2 Tablespoon instant yeast
1 teaspoon salt
1/8 cup olive oil
3/4 cup warm water
Shrak Instructions
Prepare shrak dough:

Mix together the flours, yeast, salt and honey in a bowl.
Add water slowly, while mixing.
Add the oil and knead into a smooth dough.
Transfer dough to a smooth surface and knead for an additional 5 minutes.

Rest the dough in a well-oiled bowl until doubled (about an hour).
Transfer dough to a well-floured surface, punch down and divide into 4-5 equal pieces.
Cover with a kitchen towel and rest until doubled (about an hour).
When ready to cook, heat a Chinese wok upside down over a high flame on a gas stove.
On a well-floured surface, roll out each dough ball into a thin circle.
Place one circle over the hot wok and bake it on one side only until cooked through (about 2-3 minutes).
Serve warm.
Mouttabal (Smoky Eggplant Dip) Ingredients
1 medium eggplang
2 Tablespoons tahini paste
Juice of 1 large lemon
2 cloves garlic, mashed
2 Tablespoons plain yogurt
Salt
Olive oil
Mouttabal (Smoky Eggplant Dip) Instructions
Prepare eggplant:

Poke holes in the skin of an eggplant.
Roast whole directly over the medium flame of a gas range or BBQ for about 30 minutes, turning frequently.
Cool for 15 minutes
While rinsing the eggplant under cold running water, slowly peel the charred skin away
Remove the stem and squeeze out extra liquid to help cut the bitterness

Add to a bowl the flesh of the eggplant, lemon juice, mashed garlic, tahini, yogurt and salt to taste.
Mash everything together using a spoon or mortar an pestle. Mix well.
Serve on a plate and garnish with a light drizzle of olive oil.
Limonana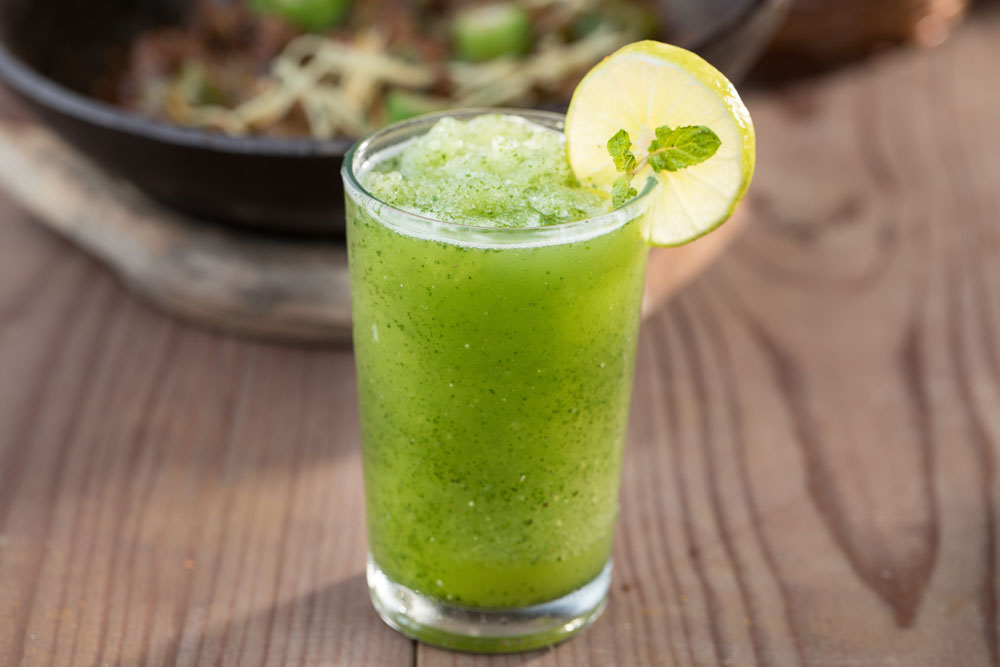 Limonana Ingredients
1 1/2 cups freshly squeezed lemon juice
3 cups loosely packed mint leaves
1 cup sugar
4 cups water
Ice cubes
Limonana Instructions
Combine lemon juice, mint leaves, sugar and 1/2 cup water in a blender and blend until fully liquid.
Strain through a fine mesh sieve and discard the solids.
In a pitcher, stir together the mint mixture with the rest of the water.
Serve immediately (over ice) to preserve the vibrant color.
Variation: blend with ice for a fun slush!