Authentic Washington DC Recipes
Abraham Lincoln's Favorite Dish: Chicken Fricassee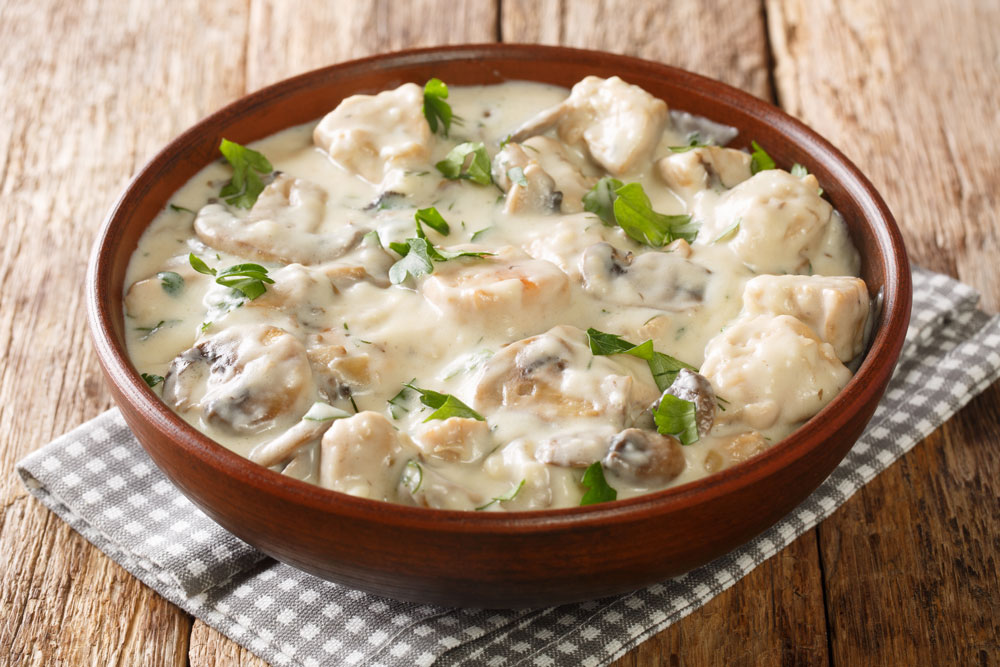 Ingredients
1 whole chicken (3 to 4 lb.)
1/2 teaspoon salt
1/2 teaspoon freshly ground black pepper
1/2 teaspoon freshly grated nutmeg
1/4 teaspoon ground mace
2 teaspoons fresh marjoram (or 1/2 tsp. dry leaves)
1 1/2 cups cream, half-and-half, or milk
3 Tablespoons butter
3 Tablespoons flour
2 oz thinly sliced ham, optional
Instructions
Cut whole chicken into 8 similar size pieces (breasts, thighs, drumsticks and wings) and remove the skin. If using a pre-cut chicken, remove the skin as well.
Combine salt, pepper, nutmeg, mace, and marjoram, and rub into the chicken.
Place the chicken pieces in a large skillet. Pour the cream or milk over the chicken, and turn to coat the pieces.
Cook over medium heat until the liquid begins to bubble, then lower the heat and cover. Simmer until the chicken is fork-tender, about 30 minutes.
Remove chicken to a platter and keep warm.
Combine the flour with melted butter. Gradually add flour mixture into the remaining liquid in the pan. Cook and stir until the sauce thickens.
Return the chicken to the sauce and reheat.
Serve with biscuits or rice on a plate garnished with sliced ham around the edged, as Abraham Lincoln preferred.
Mary Todd Lincoln's White Almond Cake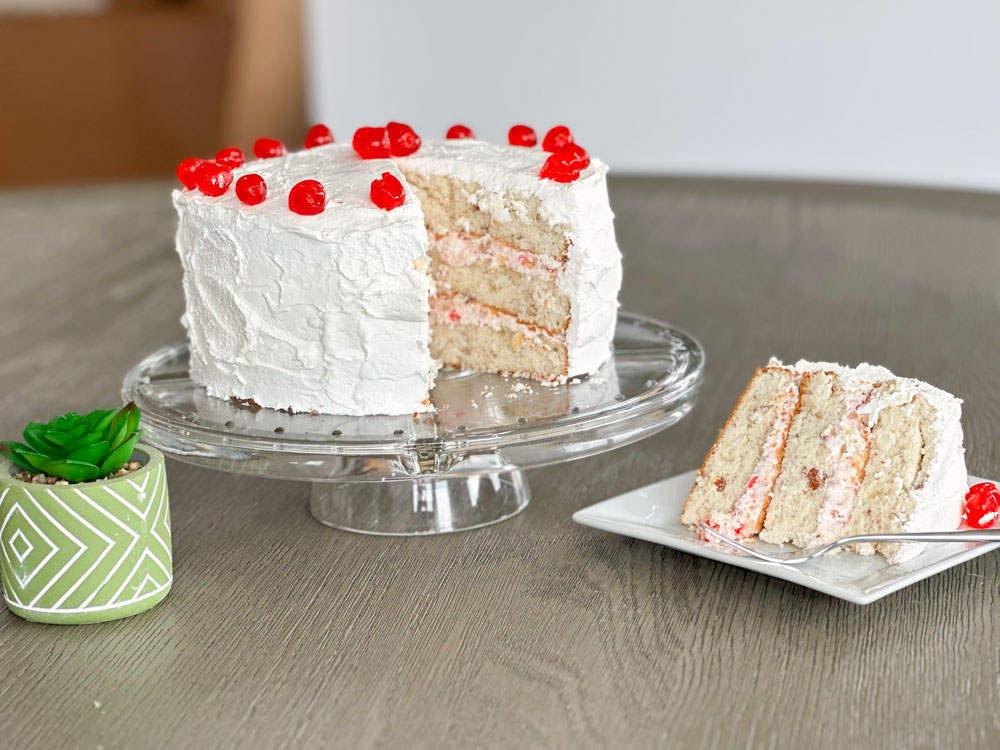 Cake Ingredients
1 cup butter
2 cups sugar
3 cups cake flour
2 teaspoons baking powder
1 cup milk
1 teaspoon vanilla
1 teaspoon almond extract
1 cup unsalted almonds, chopped
6 egg whites
1/4 teaspoon salt
Cake Instructions
Preheat oven to 350 degrees.
Cream butter and sugar until light and fluffy.
Sift together flour and baking powder. Remove 2 tablespoons and set aside.
Alternate adding sifted ingredients and milk, to creamed mixture.
Stir in vanilla and almond extract.
Coat almonds with reserved flour and add to batter.
Beat egg whites until stiff. Add salt into egg whites and then fold into batter.
Pour into three greased and floured 8- or 9-inch cake pans.
Bake for about 20-25 minutes or until a toothpick inserted in the center of the cake comes out clean.
Cool 5-10 minutes, then remove from pans and cool on racks.
Frosting Ingredients
4 cups sugar
2 cup water
4 egg whites
½ cup candied cherries, chopped
½ cup candied pineapple, chopped
1/4 tsp. drops vanilla or almond extract
Frosting Instructions
Let cakes cool and level them for stacking before making the frosting.
Combine sugar and water in a saucepan, stirring until sugar is dissolved.
Bring to a boil, then cover and cook another 3 minutes until the steam has washed down any sugar crystals that may have formed on side of pan.
Uncover and cook until syrup reaches 238-240 degrees on a candy thermometer.
Meanwhile, whip egg whites with beater on high until soft peaks form (2 – 3 minutes.)
Add syrup in thin stream to the eggs whites while still whipping constantly until frosting is spreading consistency. Add vanilla or almond flavoring.
Separate a portion of frosting to go between the layers of cake and add chopped candied fruit to only this portion.
Frost cake promptly as the frosting sets quickly. Decorate with candied fruit.
George Washington's Favorite Dish: Hoecakes with Honey (recipe from Mount Vernon Estate)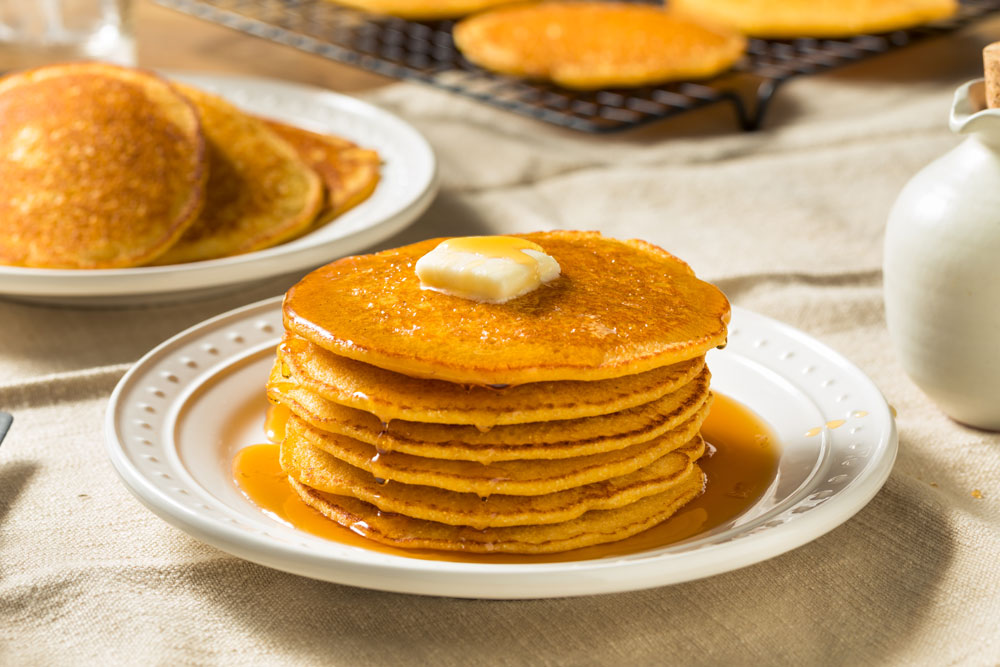 Ingredients
1/2 teaspoon active dry yeast
2 1/2 cups white cornmeal, divided
3 to 4 cups lukewarm water
1/2 teaspoon salt
1 large egg, lightly beaten
Melted butter for drizzling and serving
Honey or maple syrup for serving
Instructions
Mix the yeast and 1 1/4 cups of the cornmeal in a large bowl.
Add 1 cup of lukewarm water, stirring to combine thoroughly.
Mix in up to 1/2 cup more of the water, if needed, to give the mixture the consistency of pancake batter.
Cover with plastic wrap, and refrigerate for at least 8 hours, or overnight.
When finish hoecakes, preheat the oven to 200°F.
Add 1/2 to 1 cup of the remaining water to the batter.
Stir in the salt and the egg, blending thoroughly.
Gradually add the remaining 1 1/4 cups of cornmeal, alternating with enough additional lukewarm water to make a mixture that is the consistency of waffle batter.
Cover with a towel, and set aside at room temperature for 15 to 20 minutes.
Heat a griddle on medium-high heat, and lightly grease it with lard or vegetable shortening.
Prepare 1 hoecake at a time by dropping a scant 1/4 cup of the batter onto the griddle
Cook on one side for about 5 minutes, or until lightly browned. With a spatula, turn the hoecake over and continue cooking another 4 to 5 minutes, until browned.
As you finish each hoecake, set it on a platter in the oven to keep warm while making the rest of the batch.
Serve drizzled with melted butter and honey as George Washington preferred.
Gin Rickey Cocktail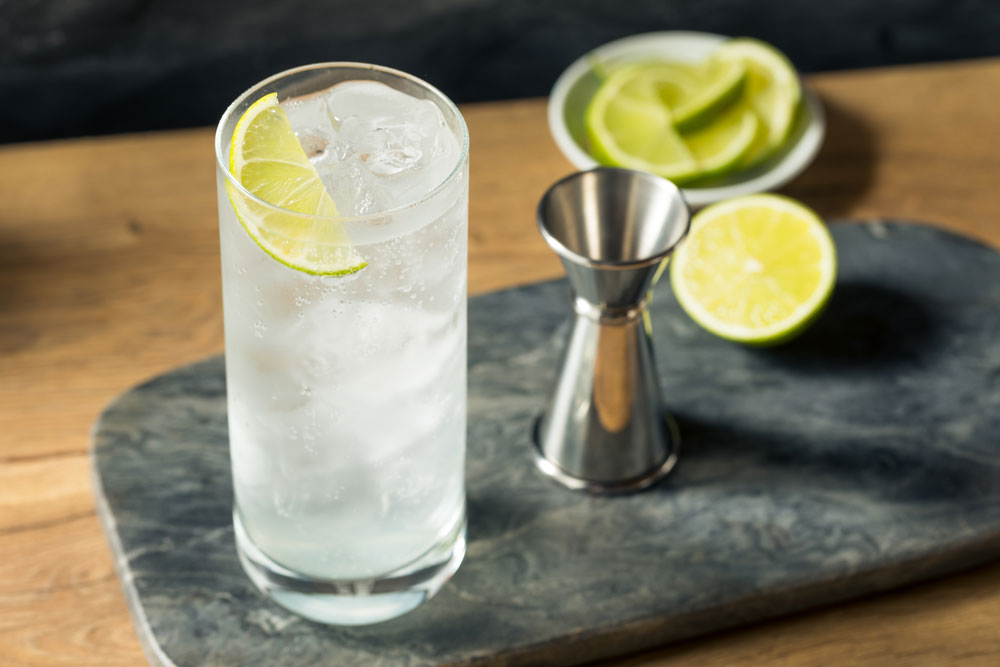 Ingredients (per serving)
2 oz Gin
1/2 oz lime juice
Club soda
Ice cubes
Garnish: lime wheels
Instructions
Pour ice into a highball glass.
Add gin and lime juice.
Top with club soda.