Authentic Chicago Recipes
Chicago-Style Hot Dog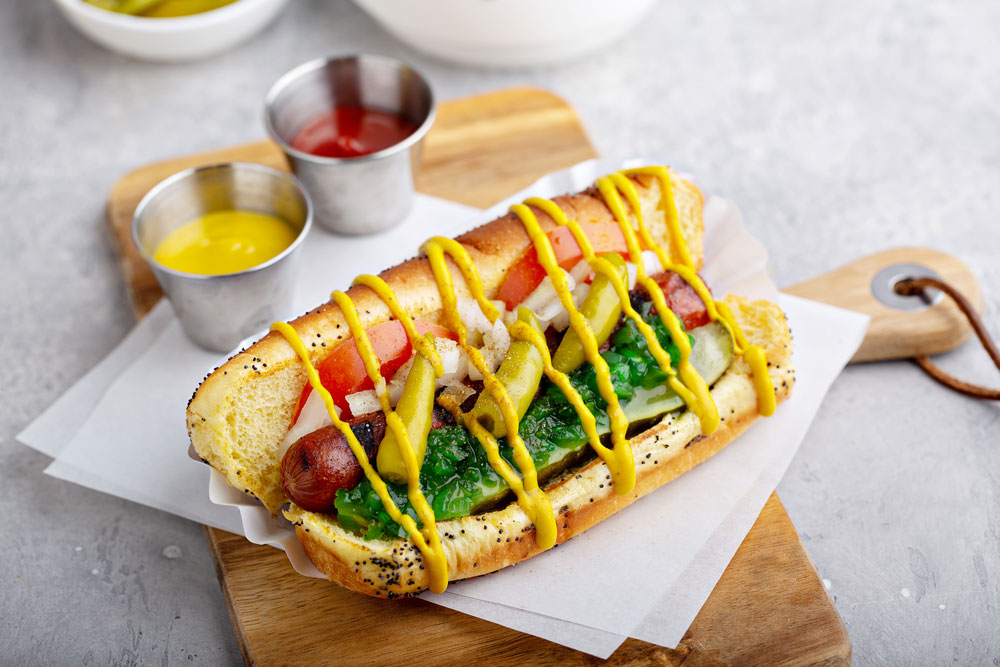 Ingredients (per hot dog)
Vienna all-beef hot dog
Poppy seed hot dog bun
1 Tbsp Yellow mustard
1 Tbsp Sweet pickle relish
1 Tbsp Diced onion
2 Tomato wedges
1 Dill pickle spear
2 Sport peppers
Dash of celery salt
Instructions
Traditionally boiled! Bring water to boil in a pot, then turn heat to low. Add the hot dog(s) and cook until warmed through — about 5 minutes. Then, remove the hot dog(s) and set aside.
Place a steamer basket on top of the pot, and steam the poppy seed hot dog bun(s) until warmed — about 2 minutes.
Put a hot dog in a steamed bun. Then, add the toppings in this order:

mustard
relish
onion
Tomato wedges (between the hot dog and the top of the bun)
Pickle spear (between the hot dog and the bottom of the bun)
Peppers
Celery salt

No ketchup!
The Chicago Cocktail
Ingredients
1 oz. Champagne
2 oz. Brandy
Dash of bitters
Dash of Triple sec
Ice
Lemon slice to garnish
Instructions
Chill an old fashion glass.
Mix brandy, Triple sec and bitters over ice. Mix or shake for at least 30 seconds to properly chill.
Pour into chilled glass, then top with champagne and garnish with lemon slice.