Authentic Barcelona Tapas Recipes
Potatas Bravas with Lemon Garlic Aioli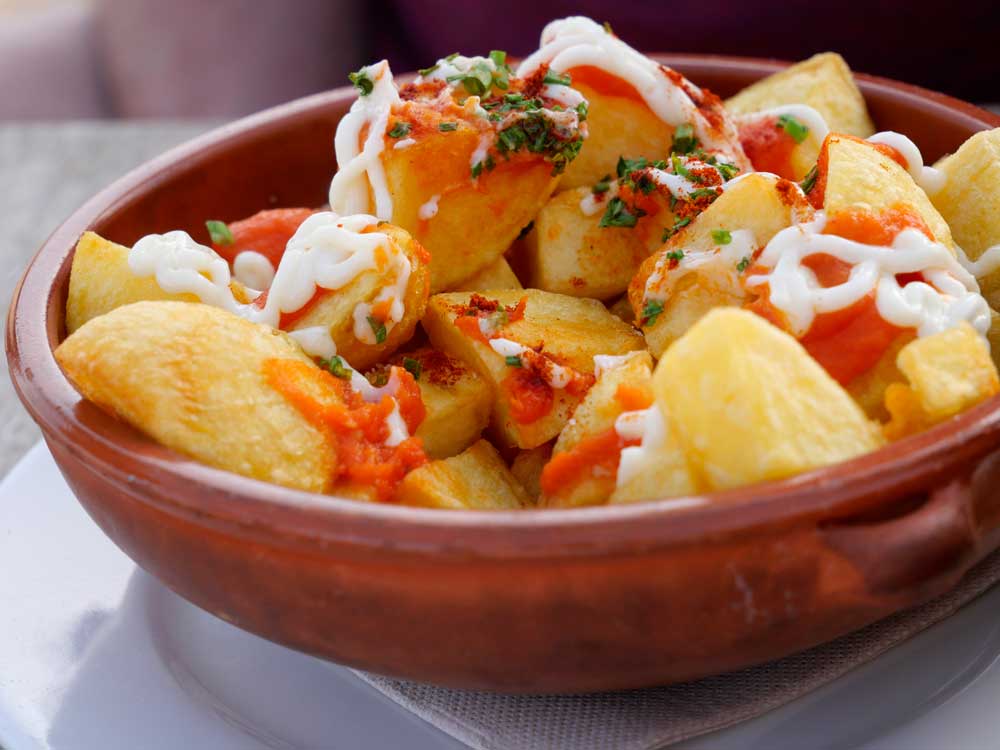 Potatas Bravas Ingredients
4 medium potatoes
1-2 cups olive oil, for frying
1/2 teaspoon salt, or to taste
1/3 cup olive oil
1/2 yellow onion, diced
2 garlic cloves, minced
2 tablespoons smoked Spanish paprika
1/2 teaspoon salt
1/4 teaspoon cayenne pepper
2 tablespoons all-purpose flour
1 cup chicken broth
Potatas Bravas Instructions
Prepare the potatoes: Wash, peel and dice into 1-inch cubes.
Fry the potatoes: In a large skillet on medium-high, heat 1-2 cups olive oil, then add the potatoes and fry until golden brown. Drain oil and season with salt.
Prepare the bravas sauce: In a medium skillet on medium, heat 1/3 cup olive oil, then add diced onion and minced garlic. Sauté 3-4 minutes.
Mix in the spices, then add the flour and cook, stirring, for 2 minutes. Slowly whisk in the broth and let the mixture simmer for about 5 minutes, stirring occasionally until thickened.
Complete the dish: Spoon the sauce over the potatoes. Serve with lemon garlic aioli.
Lemon Garlic Aioli Ingredients
1 cup mayo
2 Tablespoons lemon juice
2-3 large garlic cloves, finely minced
1/4 teaspoon salt
1/4 teaspoon pepper
Lemon Garlic Aioli Instructions
Mix all ingredients together ahead of time to let the flavors marry.
Refrigerate until ready to serve.
Creamy Ham Croquettes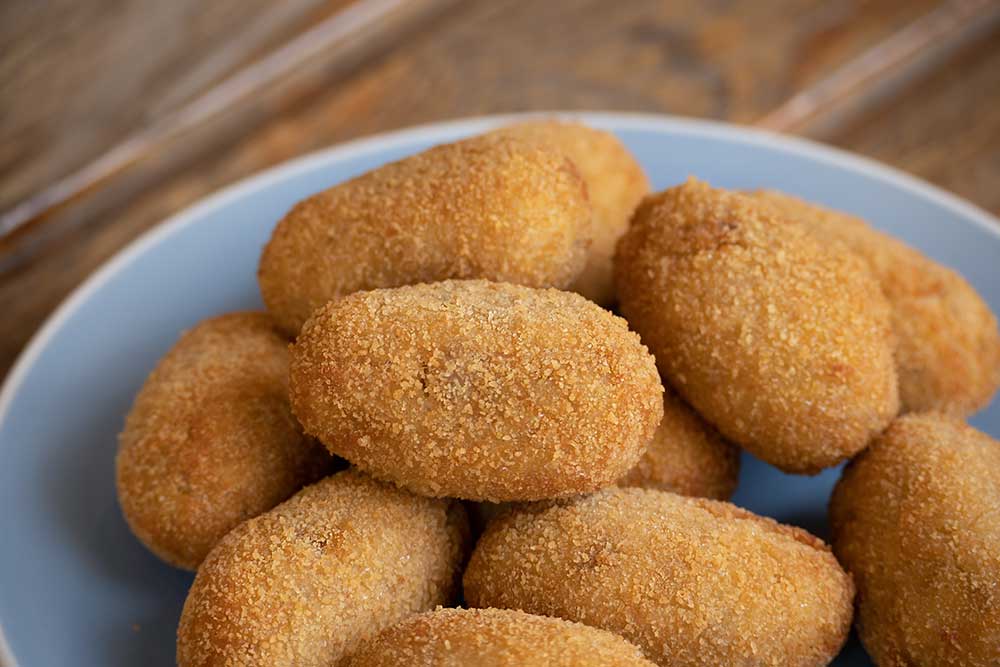 Ham Croquettes Ingredients
4 Tablespoons unsalted butter (room temperature)
1 Tablespoon finely chopped onion
1 cup whole milk (room temperature)
1 cup flour, divided into 1/3 and 2/3 cups
1/4 teaspoon nutmeg
1 pound ham, diced and then ground in food processor
2 large eggs
1 cup bread crumbs
Vegetable oil for frying
Lime wedges
Ham Croquette Instructions
Melt butter in a sauce pan over medium-low heat. Add onion and cook for 1 minute.
Slowly whisk in milk, 1/3 cup of flour, nutmeg, salt, and pepper. Whisk until it becomes a very thick sauce (a roux).
Add cooking wine and ground ham to the roux. Mix slowly until combined. Reduce heat to low and simmer for 5 minutes.
Transfer the filling to a bowl and then refrigerate for 2 hours or overnight (the longer the better). The filling has to harden in order to form logs. (Important step, don't skip!)
Remove the filling from the refrigerator and form into logs approximately 3″ long and 1″ wide. If the mixture is too sticky, add bread crumbs, 1 tablespoon at a time until it's no longer sticky.
Place the logs on a cookie sheet and put back in the fridge to firm up again, about 30 minutes.
In one bowl, whisk eggs and set aside. In another bowl, mix the remaining 2/3 cup flour and 1 cup bread crumbs.
Dip each croquette log in the egg first and then coat in the bread crumb/flour mixture. Repeat with each log until all are breaded.
In a large pot or fryer, heat enough vegetable oil to cover the croquettes completely. Fry each croquette at 375 degrees F until golden brown, approximately 3 – 4 minutes.
Remove the croquettes from oil and drain on a paper towel-lined plate. Squeeze lime wedges over croquettes and enjoy!
Pan Con Tomate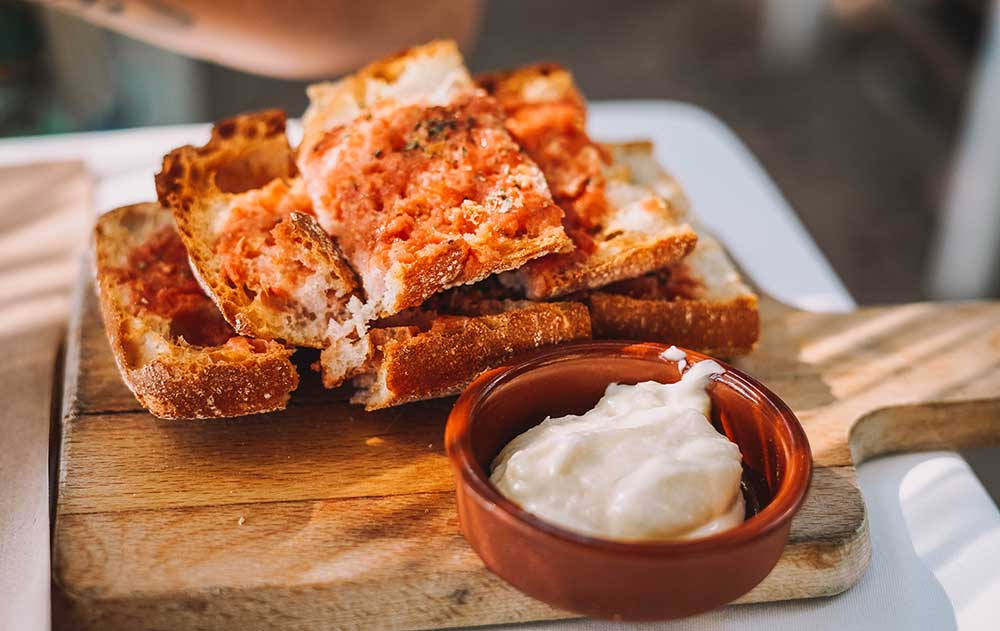 Pan Con Tomate Ingredients
1 loaf ciabatta bread
3 large tomatoes, very ripe (heirloom if available)
Extra virgin olive oil
1-2 garlic cloves, sliced in half
sea salt
splash of fresh lime juice (optional)
Pan Con Tomate Instructions
Prepare the toast: Slice the ciabatta loaf in half length-wise, then in 2-inch slices.
Brush each slice generously with extra virgin olive oil and arrange on a sheet pan. Broil in pre-heated oven about 6 inches under the broiler for about 3 minutes or until golden brown.
Prepare the tomato: Grate the tomatoes using a large hole grater, discarding the peels. Season the tomatoes with salt and a splash of lime juice.
Assemble pan con tomate: While the toast is still hot, rub with garlic cloves. Then spread with grated tomatoes. Serve.
Spanish Meatballs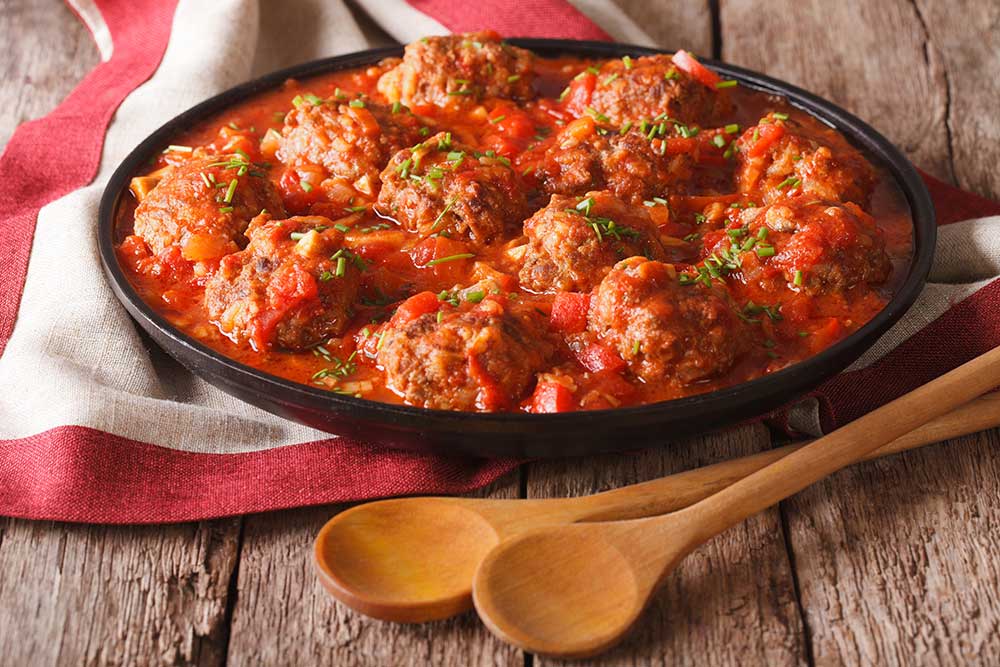 Meatball Ingredients
1 pound ground beef and pork, mixed
2 garlic cloves
1 egg
2 1/2 Tablespoons breadcrumbs
2 Tablespoons chopped parsley
3/4 teaspoon sweet paprika
1/4 teaspoon smoked paprika
1/4 teaspoon hot paprika
1 teaspoon salt
1/4 teaspoon black pepper
1 tablespoon olive oil
Meatball Instructions
Prepare meatballs: Place all ingredients (except oil) in a bowl and mix well. Form between 20 – 25 small meatballs, about 1 Tablespoon each.
Fry meatballs: Heat the oil in a large skillet. Fry the meatballs until brown on all sides, about 5 minutes.
Tomato Sauce Ingredients
1 medium onion
2 tablespoons olive oil
3 garlic cloves
2 14 oz. cans diced tomatoes
1/2 teaspoon fennel seeds
1 teaspoon dried oregano
2 bay leaves
1/4 teaspoon cayenne pepper
2 tablespoons chopped parsley
salt and pepper
Tomato Sauce Instructions
Prepare tomato sauce: Heat the 2 tablespoons olive oil in the same skillet used to fry the meatballs. Saute finely chopped onion and garlic until onion is translucent.
Add canned tomatoes, herbs and spices and bring to a boil. Simmer on medium-low heat for 20 minutes or until slightly thickened.
Assemble Spanish Meatballs: Add the meatballs to the sauce and heat for 5 minutes, until cooked through.
Enjoy!
Sangria Cocktail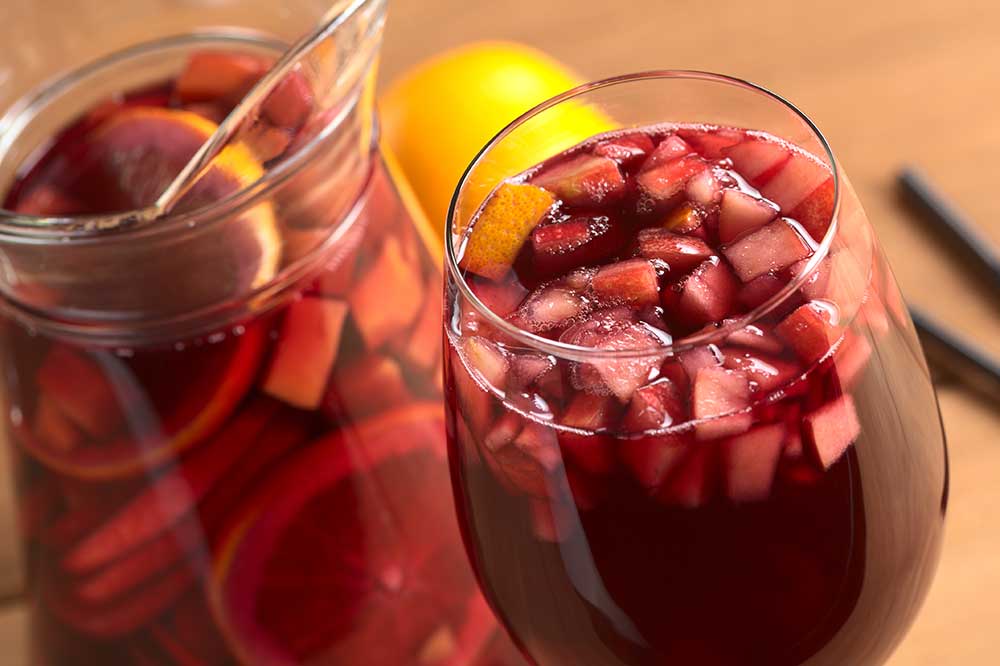 Sangria Ingredients (serves many)
1 bottle of Spanish red wine
2 oranges, thinly sliced
1 lemon, thinly sliced
1 green apple, diced small
1 Tablespoon sugar
1 cinnamon stick
Optional: lemon or orange juice or soda to taste
Sangria Instructions
Add all ingredients to a jug and mix until sugar dissolves.
Allow to sit for at least 2 hours without stirring to allow the flavors to marry.
Best enjoyed with conversation with friends and family.
Agua de Valencia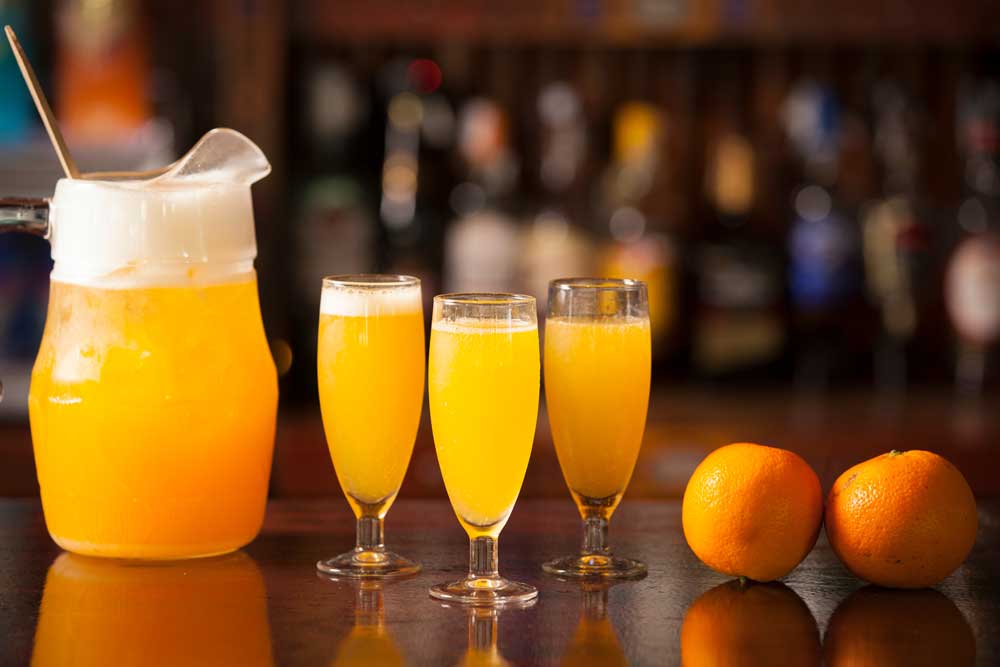 Agua de Valencia Ingredients (serves 8)
17 oz orange juice freshly squeezed
10 oz cava semisweet sparkling wine, chilled
3 1/2 oz vodka
3 1/2 oz gin
Agua de Valencia Instructions
Mix all ingredients in a 1 liter pitcher or carafe.
Serve in champagne or martini cocktail glasses.