Mexico City Immersion Ideas
Immerse Yourselves In The Beautiful, Lively Culture of Mexico City
Game night just became "𝙢𝙪𝙮 𝙘𝙤𝙡𝙤𝙧𝙞𝙙𝙤" as we visit the vibrant, multifaceted Mexican capital, Mexico City! Immerse yourself in this lively culture where its people have proudly preserved their past glory, including the downtown ruins of the great Aztec empire and graceful colonial-style churches and palaces. Mexico City is home to more than 40,000 restaurants and many in the borough of Coyoacán. This area is also known as the residence of famous Mexican artists Frida Kahlo and Diego Rivera.

As you reveal this month's heart-racing mystery, experience Mexico City by playing some favorite tunes of lovers Frida and Diego and imagine being seated in one of the avant-garde restaurants sipping the city's favorite cocktail and dining on authentic chocolate mole.
Our Recommendations: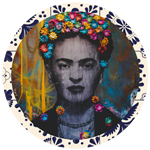 Music
Envelop the Mexican mood by playing some beloved songs of Frida Kahlo and her husband mural artist Diego Rivera. "Cielito Lindo" was a cherished song that deeply affected Frida leading her to name one of her paintings, "Árbol de la esperanza, mantente firme," a line from the tune. The moody "Paloma Negra" was another preferred tune of the couple. Kahlo and Rivera's expression in art and music continues to be felt throughout Mexico City in its mixture of colors and influences. Find the playlist, here!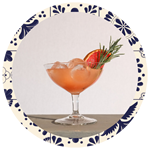 Drink
Every fun night starts with music and a signature drink, and when in Mexico City, enjoy the famous Paloma. Start by running the rim of your glass with a grapefruit wedge before dipping into a plate of sea salt. Add 2 oz Tequila Blanco, 2 oz freshly squeezed grapefruit juice, a 1/2 oz lime juice, a 1/2 oz maple or simple syrup, and stir until combined. Add ice and top with 1 oz. of soda water. Prefer a non-alcoholic version that is still tart and tasty? Omit the tequila and use 2 oz grapefruit juice, up the fresh lime juice to 1 oz, use 0.5 – 1 oz maple syrup, and top with sparkling water.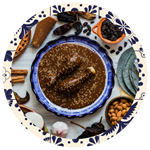 Cuisine
Make it a night to remember when you highlight the mystery box of Mexico City with an authentic Mexican dish of Chocolate Mole sauce. Made of toasted guajillo chiles, ancho chiles, chipotle chiles, tomatillos, raisins, cinnamon, and dark chocolate, the senses of taste and smell will transport you directly to the famous Mexico City. Serve over stewed meats or enchiladas, and your guests will feel welcomed, delighted, and ready to participate fully in the Mexico City adventure. Find the recipe here!
Already subscribed? If so, you'll automatically receive the Mexico City adventure. If not, what are you waiting for? Join the esteemed Society of Seekers and discover a world of mystery!
Available for a limited time
Don't wait! June 20th is the last day to order to ensure you receive our Mexico City Aztec mystery. Once it is gone, we won't ship this adventure again for another 2 years.

Save $5
Order today and save $5 off your first box. Use code MEXICO at checkout, but hurry, offer ends 6/21/21.
Explore the world, one mystery at a time.
Finders Seekers is a monthly subscription box that explores world cultures, decoding cryptic messages and solving mysterious clues. If you have what it takes to solve the 'Find', you can win cash and prizes!