Subscriptions automatically renew according to their terms. You can cancel your subscription at any time by logging into your account or emailing Finders Seekers.
Shipping Dates:
• We ship to all subscribers once a month by the 22nd.
• Orders received by the 20th will be shipped by the 22rd.
• In December, we ship by the 17th to ensure Christmas delivery
Is your order a gift?
 You can download, personalize and then print or email a gift card here.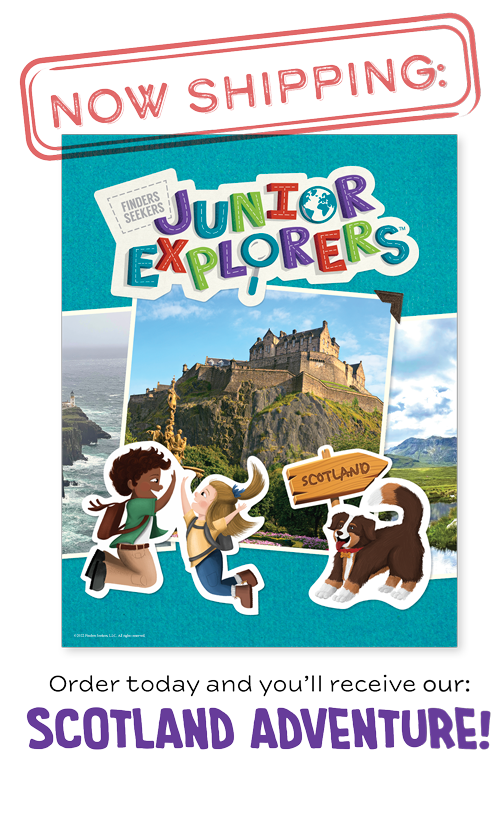 Russ M.
We already love playing Finders Seekers and were thrilled to see a Junior version released. It is so well done and the kids absolutely loved it. I thought it might be a one off but they're already asking when the next one is going arrive. There has been a lot of thought built into this which was evident by the how it was able to captivate my kids for such a long period of time. No phones or ipads just like a good ole fashioned board game like we used to play together as kids.
Seth S.
Amazing product! Finder Seekers is SO MUCH fun for the whole family! Junior Explorers is no different! So much thought and detail goes into each box. My kids learn a ton without even realizing it. (shhhh, don't tell them!) Highly recommend!
Kathy H.
Grandparents alert! My grandkids love this!!! What a great way to spend quality time with them plus learn something new!!
Natalie D.
My kid loves this box! The only thing I would change is I wish this came out sooner! My kid loves the little characters, and the activities keep him engaged. Very fun little educational box. Highly recommend for anyone with kiddos!
Adam R.
Feed your kids curiosity and creativity! This is such a great gift idea for inspiring young children's minds. I would have loved these as a kid! If you want to give your kids something they'll be interested in besides video games, here's your answer!
Nikki L.
So much fun! I love Finders Seekers! I have been a subscriber for quite a while and I was so excited when I heard they were coming out with a Junior edition, and it did not disappoint! It was a big hit with my niece and nephew! I definitely recommend!
Rick D.
So fun and educational! These games help kids learn interesting things and to experience how learning itself can be so much fun.
Create:

Art & personal expression
Create:

Art & personal expression
Create:

Art & personal expression